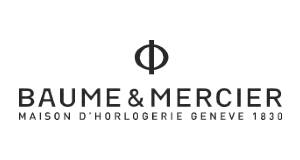 The history of Baume & Mercier begins in 1830. The brothers Louis-Victor and Célestin Baume open a comptoir horloger (watch shop) in the Swiss Jura region, in the village of Les Bois. Well aware of the potential of new territories, the Baume brothers set up a branch in London, called "Baume Brothers". Baume Brothers expands throughout the British Empire.
At the beginning of the 1920s, the director of the Maison William Baume decided to start a partnership with Paul Mercier. Thus was born, in 1918 in Geneva, Baume & Mercier. The company soon became one of the most dynamic in the wristwatch sector, thanks to the very balanced models and the particular shape it offers. In 1919, the Maison was awarded the "Poinçon de Genève" (Hallmark of Geneva), the most prestigious international recognition of the time.
Always in search of balance, symbolized by the Greek letter Phi - the current Baume & Mercier logo -, during the 50s and 60s the Maison laid the foundations to define what is now considered the archetype of the traditional round watch .

In 1988, the brand joined the Vendôme group, now Richemont, and further enriched its collection by presenting several highly successful models that immediately established themselves as icons of the brand.
Brand products Baume & Mercier