SMALL ODALISCHE OPALINO VASE VENINI 706.80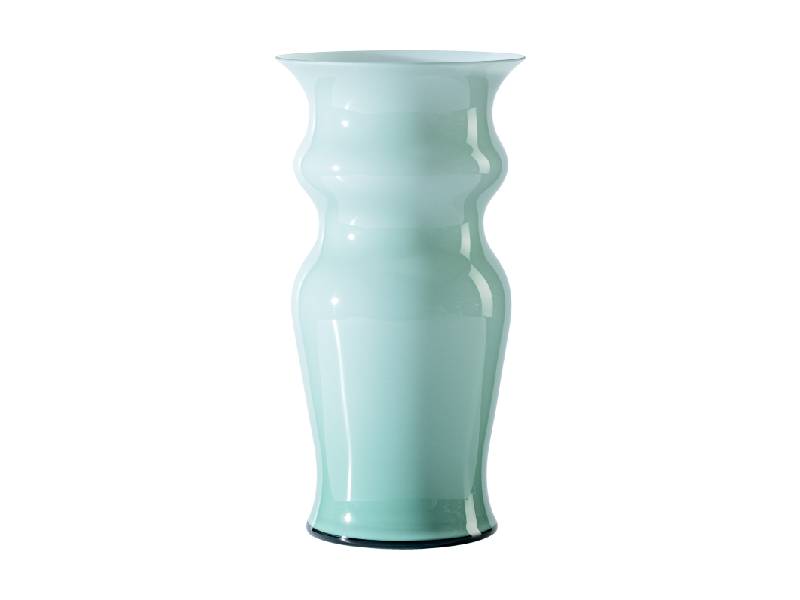 NEXT
PREV
"Its feminine shapes widen at the top, as if draped in a turban: a symbol of the seductive grace of odalisques inspired by Raphael's painting "Fornarina". As a tribute to the exotic beauty of the Far East, the vase flaunts sinuous and soft shapes."

Express and safe shipping
Express shipments while traveling on safe vehicles, free on orders over 500.00 € in Italia

Returned service supported
Return or replacement service for ordered goods.
Vases | SMALL ODALISCHE OPALINO VASE VENINI 706.80
Item number: 706.80.
Collection: Authors Collections.
Author: Leonardo Ranucci 2009.
Material: Murano glass.
Colour: CP/MW/CP (Cipria Pink/milk white/cipria pink) - RG/MW/RG (Rio green/milk white/rio green)
Size: Diameter: 18 cm. Altezza: 34 cm.
Weight: 2.5 Kg.

SOFFIATO TECHNIQUE: This technique takes its name from the action performed by the craftsmen when they blow air into a long metal cane attached to a piece of glass in order to expand and shape it into various shapes. This glassmaking tradition has remained unchanged for more than a thousand years. Thanks to this ancient technique and to the experience and manual skill of the master glassmakers, a simple piece of glass is transformed into artistic masterpieces that are truly one of a kind.

LEONARDO RANUCCI: A free and inventive approach to industrial design, this is the path that Leonardo Ranucci's consultancy firm has embarked on. Ranucci deals with the creation and development of some important jewellery and fashion brands in Italy and abroad, in a constant attempt to discover new trends. As a passionate jewellery designer, he works out his precious suggestions by levering on stylistic antitheses: art and experimentation, rigour and imagination, essence and elaboration, ethnic references and technological innovations all come together in his works in a consistent and harmonic whole, giving life to an unmistakable style that looks towards the future, which is as eclectic as it is flexible. The echo of continuous journeys feeds new inspirations, fragments of beauty and poetry reinterpreted in a modern key. In 2003, he became part of the VENINI world, where he has moved from classical jewellery to glass jewels.
Tags
JuniorB.it - Customer reviews