BALLPOINT PEN CLASSIQUE MEISTERSTUCK AROUND THE WORLD IN 80 DAYS MONTBLANC 126347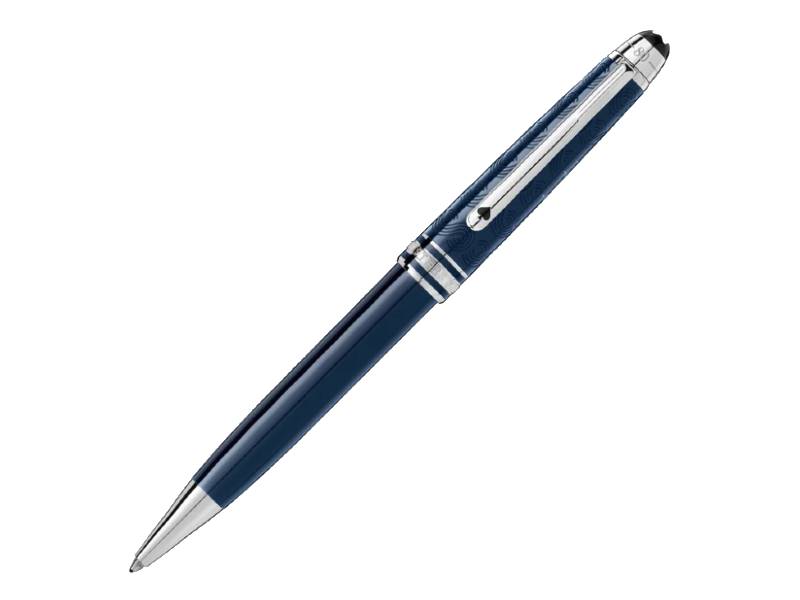 NEXT
PREV
The Meisterstück Around the World in 80 Days collection is inspired by the famous adventure novel by Jules Vernes. The Classique Ballpoint Pen in blue precious resin draws on the first part of the journey. The main character travels, mainly via steamboat, from London to Bombay, crossing the Mediterranean ocean and through the Suez canal. The cap features a milled pattern of the key elements of the novel: ocean waves, card suits and a cartouche with a lasered steam boat. The cap top is embossed with the length of the journey, 18 days from London to Bombay and 80 days in total.
ATTENTION
Shipments are suspended from 6 to 23 August.

Express and safe shipping
Express shipments while traveling on safe vehicles, free on orders over 500.00 € in Italia

Returned service supported
Return or replacement service for ordered goods.
Writing instruments | BALLPOINT PEN CLASSIQUE MEISTERSTUCK AROUND THE WORLD IN 80 DAYS MONTBLANC 126347
Item number: 126347.
Collection: Meisterstück.
Writing mode: ballpoint pen.
Clip: Clip with black lacquered ace of spades symbol.
Barrel: Blue precious resin inspired by the Mediterranean sea.
Cap: Blue precious resin inspired by the Mediterranean sea.
Colour: blue.
Weight: 22.53 gr.
THE NEW MEISTERSTÜCK EMBARKS ON AN UNFORGETTABLE JOURNEY BRINGING TO LIFE JULES VERNE'S AROUND THE WORLD IN EIGHTY DAYS
Fascinated by the evolving transport possibilities of the Victorian era, Jules Verne wrote Around the World in Eighty Days in 1872, and it was translated into English in 1973. In the novel, Phileas Fogg bets his entire fortune that he can depart from London by train at 8.45 pm on 2 October, travel the world via Suez, Bombay, Hong Kong, Yokohoma, San Francisco, New York, and finish in the same place, at the same time, on 21 December. Jumping from steamers to trains – and at one point, an elephant – Fogg proves that almost anything is possible when one's mind is set on something.
To celebrate the pioneering spirit of Phileas Fogg, Montblanc presents the new Montblanc Meisterstück Around The World in 80 Days collection.
Tags
JuniorB.it - Customer reviews