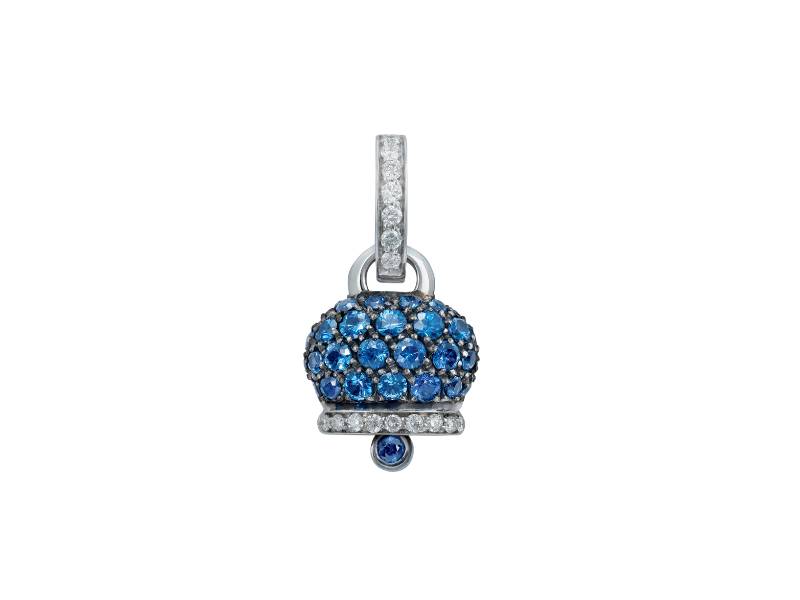 NEXT
PREV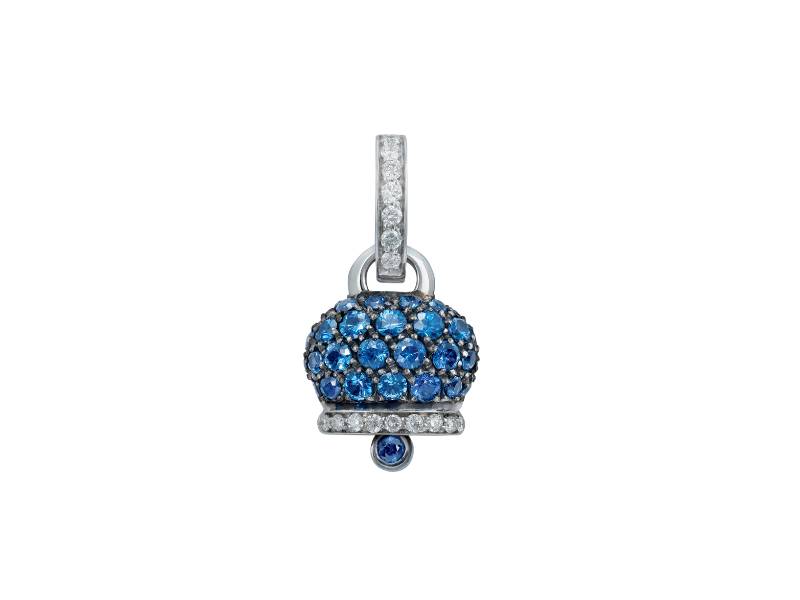 18KT BURNISHED WHITE GOLD SMALL CAMPANELLA CHARM WITH DIAMONDS AND SAPPHIRES CAMPANELLE CHANTECLER 33900
Medium Campanella charm set in 18Kt white and burnished gold, diamonds and blue sapphires pavé.

Express and safe shipping
Express shipments while traveling on safe vehicles, free on orders over 500.00 € in Italia

Returned service supported
Return or replacement service for ordered goods.
Woman | 18KT BURNISHED WHITE GOLD SMALL CAMPANELLA CHARM WITH DIAMONDS AND SAPPHIRES CAMPANELLE CHANTECLER 33900
Item number: 33900.
Collection: Campanelle
Material: 18 kt burnished white gold.
Stones: diamond and sapphires.
Carat: diamonds: 0.16 ct. Sapphires: 1.03ct.
Measurement: H 2.2 cm total.
Gold weight: 4.20 gr.

CAMPANELLE - The first Campana (Bell) was created in October 1944 when Chantecler, inspired by the legend of St. Michael Archangel who triumphed on Satan, decided to cast a bronze sample of the bell. The Bell was intended to be a symbolic gift for good luck and peace, especially conceived for US President Roosevelt by Chantecler and the citizens of Capri. The bearer of this Campana was US Air Force Colonel Woodward, at that time based in a military "Rest Camp" in Capri. The war ended few months after and the Campana, bringer of peace, became the most coveted souvenir for Americans and for tourists from around the world. Style icon, peace and luck bringer, nowadays the Campanella is an emblem, the sublimation of Chantecler's savoir faire, the epitome of all values of the brand. Unconventional, playful and collectable, the Campanella has lived through eras and trends, preserving through time its unique design and style. Currently the collection offers a wide range of colors, dimensions and shapes that meet any desire of its customers, adding a touch of glamour and exclusivity to this special "porte-bonheur" jewel!
Tags
JuniorB.it - Customer reviews